"MAD" MAGAZINE
"Clodumbo"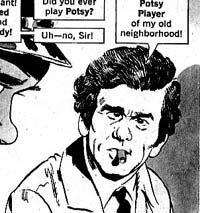 "Clodumbo" is a classic "Mad" Magazine TV parody,  written by Lou Silverstone and illustrated by Angelo Torres. Appearing in the January, 1973 issue,  "Clodumbo" is more than a generic cartoon farce. It is a deft and insightful satire of Columbo's working style – solving crimes by constant pestering.
When a woman is found dead in her home, Columbo immediately suspects the husband, "Dr Robert Culpable", because his fingerprints are all over the murder house -- his own home.   
Clodumbo constantly hounds Dr Culpable. He plays golf in Culpable's living room, takes a bath in his tub, reads Culpable's mail, cooks eggs in his kitchen, and walks into his closet (as Columbo actually did, in Death Lends A Hand), all while constantly talking in streams of inane chatter. Culpable gets increasingly agitated.
Later, Clodumbo shows up in Dr Culpable's operating room, takes over the brain surgery, drops the patient's brain on the floor, and uses the patient's skull as an ashtray to put out his cigar.
Dr Culpable is finally driven mad by Clodumbo's incessant pestering, until he cracks and confesses to murder. Then it turns out Culpable is totally innocent, and only confessed because he would do anything to get Clodumbo out of his life. 
We find out that there were 27 other innocent people who confessed to Clodumbo for the same reason. Sixteen of them are still in jail, and 11 of them were executed.
("Mad" Magazine is copyrighted by EC Publications, Inc.)